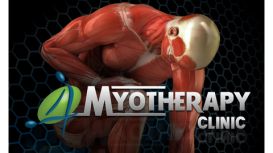 Myofascial pain, is the result of soft tissue injury, occurring within the muscles, tendons, ligaments and fascia, which forms the musculoskeletal structure. When injury, inflammation, physical or emotional trauma occurs, the fascia can become tight and cause pain and/or restricted range of motion.

Myofascial stretching, muscle energy technique, medical acupuncture, joint mobilisation, spinal manipulation, exercise prescription, postural advice and education, and use of wave stone therapy (heat/cold).
Services
One of our Myotherapy key skills is the assessment we provide. Using a combination of tactile skills, anatomical knowledge and clinical understanding, we can identify abnormalities in the muscle and fascia tissues. This knowledge helps to determine which form of technique is to be used in treatment.
Myotherapy takes into account the individuals aspects of health and activity to treat the patient, including lifestyle and occupation.
Incorporating educational strategy is also important to engage patients in the recovery process, and assist in the prevention of future injuries.
Sports Massage is for anyone who is involved in activity, from 'everyday' person through to the professional athlete. Muscles that have been worked hard are likely to become sore and tight, also easily susceptible to injury. Regular massage will increase flexibility and prevents pull,tears and repetitive strain injuries. Sports Massage will enhance a persons performance, endurance and mental focus for any pre-event. Recovering from an injury (post-event treatment) can be speeded up and scar tissue prevented. Scar tissue from an old injury can be broken down over a number of sessions. For anyone participating in regular activity, Sports massage every week or two may be a great addition to your normal regimen.
Deep Tissue Release utilizes strong techniques,applying direct pressure or friction across the grain of the muscle. Using fingers, thumbs and elbows. We work into the soft tissue to stretch and loosen tight or knotted fibres. Our body can become tight or tense through repetitive use, through stress or after injury.
Deep Tissue Release can help relieve muscular aches and pains, release muscle spasms, relieve headaches, neck pain, break down scar tissue, reduce pressure on joints cause by osteoarthritis,assist in rehabilitation of sprained and strained soft tissue.
Persons
My career started over 20 years ago as an exercise consultant in health clubs in London. During those early years I trained in Sports Therapy and this lead to studying manual therapy techniques. In 1997 I studied at the London School of Sports Massage under Mel Cash. Following on from this, I became qualified in remedial treatments which allowed me to effectively treat more chronic muscular conditions.
Since studying Myofascial Release in 2004 I became more focused on the structural and functional aspects of the body. Through my years of experience, I have developed a strong knowledge of anatomical structure and soft tissue palpation to accurately diagnose the cause of muscular conditions. My aim is to enhance posture, movement and flexibility.
Reviews and Ratings
Barry Cooper has been treating me since 2001 for ailments in relation to my Multiple Sclerosis, I find him courteous, very professional, reliable, and most of all I cannot find anyone else who understands the problems my body gives me. He treats my varying spasms, injuries etc on a weekly sometimes even twice a week. I can only very highly recommend Barry. His treatments have kept me mobile for much longer than any doctor ever anticipated.
Absolutely first class. Having been a pretty good swimmer in my younger years, I have been lucky enough to have many decent massages and physio treatments, and I would rate Barry amongst the best.

I am now a relatively inactive office worker but still enjoy a proper massage to get rid of the aches and pains of modern life. As the other reviewer mentioned, Barry is very keen to offer advice on how to prevent a relapse of the problems you have asked him to sort out. You could say that he is potentially doing himself out of future business.

Aside from the fact that he is very competent, he is also a nice guy who made me feel at ease throughout. To top it off, he charges half of what a fancy spa will charge for a wishy washy whale music and scented candle massage.