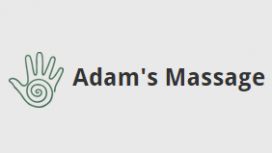 Elevated blood pressure has often been called the "silent killer" due to the fact that one may never know that hypertension is a problem until a heart attack or stroke strikes.
Brush aside any thoughts that massage is only a luxury splurge that has no real health benefits. To the contrary, hands-on healing helps you unwind, lowers blood pressure, promotes muscle relaxation and boosts your immune system. During a massage session, massage therapists use their hands and fingers to press and manipulate your skin, tendons, ligaments and muscles. The strokes gently move your blood, oxygen and lymph to various tissues and organs in a way that normally doesn't happen in the bodies of most people.
---
Reviews and Ratings
We do not have any reviews about Adam's Massage available right now.