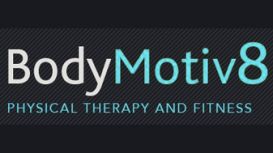 Do you find it hard to get out of bed in the morning? Are you bored with life? Is your work/life balance not very balanced? Do you think you used to be happier but are now stuck in a rut? If you ever wish that there was someone behind you, supporting you, guiding you and encouraging you to keep going, then a life coach may be the answer. The FitnessBuilder App is a portable personal trainer which is used by the Personal Trainers at Bodymotiv8 to guide your fitness lifestyle.
It allows Bodymotiv8 to keep track of your workouts and logs for in-session and Remote Training. BodyMotiv8 have joined up with Number95 to bring you the best in corporate team building days. Our corporate days start at 10am, include all refreshments and are tailored to your needs. We will consult with you to ensure we address your individual problems and targets, and understand your staffs' needs.
---
Reviews and Ratings
We do not have any reviews about Bodymotiv8 available right now.