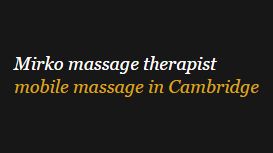 Today many people yearn for an approach to healthcare that is based not on drugs and technology, but on the healing value of physical contact. There's nothing mystical or romantic about this idea. The human body is a physical object that responds to physical influences. Massage is probably the most powerful and at the same time natural way to de-stress the human body. It has the potential to alleviate pain, reduce strain, and bring relaxation and pleasure.
Everyone can benefit from a good massage on a regular basis, no matter what you do. The physical and psychological benefits of massage have been recognised and valued since ancient time. Early physicians, despite their limited concept of body function, were able to use massage very effectively in the treatment of fatigue, illness, and injury. Massage is the oldest documented form of healthcare.
---
Reviews and Ratings
We do not have any reviews about Mirko Massage Therapist available right now.