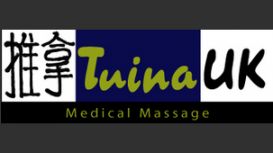 Chinese Tui Na was called 'An Mo' or massage in ancient times. The term Tui Na was first seen during the Ming Dynasty. Chinese Tui Na is a therapeutic approach guided by Traditional Chinese Medicine (TCM) and was first used to treat paediatric disease through massage manipulations. Tui Na is a very important component of Chinese Medicine alongside acupuncture and herbal prescription.
Today Tui Na has become very advanced in its treatment for many diseases. Used in many of the hospitals in China today in the front line of healthcare, whereas in the west these complaints are not seen in our clinics until they become chronic many days after the incident.
Errol Lynch formed Tui Na UK in 2004 following many years of clinical practice and training in China. The intentions are to spread the word of tuina as an independent cornerstone of traditional Chinese medicine.
---
Reviews and Ratings
We do not have any reviews about Tui Na available right now.